Posted By:

Marty
Can You Say "Watina" In Japanese? -

02/22/13

02:23 PM
As Belizeans, we all know and love Garifuna music - but how many of us can sing it? Not many! And while some English speakers can bluff their way through a cancion romantica en espanol or even rough up a Ranchera, try that with Garifuna, and you'll just end up sounding lame - like la Banda Blanca butchering the Chico Ramos Classic, "Conch Soup". Indeed, for the outsider, the Garifuna language is a real challenge, but not for Fumiko Gomi. The Japanese volunteer told us how Garifuna sounds easy-Japanesey to her. Jules Vasquez reports:..
Jules Vasquez reporting
This is called a shamisen - a three string Japanese guitar and we're pretty sure this is the first time such an instrument is being used to play the garifuna standard "Malate."
But that's Fumiko Gomi's story - she's a Japanese volunteer in Belize - who's been here for 2 years. She teaches creative arts in Punta Gorda - her students made this map. She found out early on that music could command respect of her students:
Fumiko Gomi, Japanese Volunteer
"Before I started to play music here in Belize, every called me "chiney gial." My students didn't show any respect for me because I couldn't speak English and I couldn't manage the class well. But when I play the music, they understand me and now they call me by my name and the relationship is getting better than before. So music helps me a lot."
And so she started to learn Garifuna music - a language made up of Arawak, Carib and Spanish influences but one that sounded strangely similar to her mother tongue, Japanese:
Fumiko Gomi, Japanese Volunteer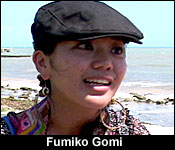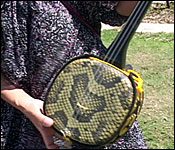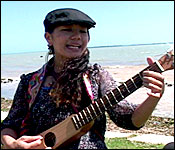 "In Belize there are lots of nice songs. I just love music, I just wanted to play. It's difficult to sing in English or creole or reggae but Garifuna song for us it's kind of similar to us. The sound are very easy to pronounce for me."
And that love for the language led her to her favourite - Now she may not have all the lyrics quite right, but this art teacher says it's the feeling not so much the words:
Fumiko Gomi, Japanese Volunteer
"I listen over and over and try to find the chord. It's very slow bit if we take the time."
Jules Vasquez
"Are you concern that you may have the lyrics wrong?"
Fumiko Gomi, Japanese Volunteer
"Maybe wrong, I don't understand each meaning of the words. I can sing in Garifuna, but I cannot speak Garifuna. It's the most important feelings in the world."
And so now she's ready to take these songs back to Japan
Fumiko Gomi, Japanese Volunteer
"I don't know why but Garifuna songs is very warm. The language sounds very good, so maybe everybody loves it."
Jules Vasquez
"It sounds like home?"
Fumiko Gomi, Japanese Volunteer
"Yes, sounds like home."
Gomi's Musical adventurism knows no limits - as this weekend she goes to Corozal with her students to perform Amazing Grace in Q'ueqchi.
For those wanting to hear her sing, she'll be performing at the Japanese Open Day at the George Price Center on the 16th March.