Posted By:

Marty
BTB: Graffiti Is Great! -

02/28/13

02:09 PM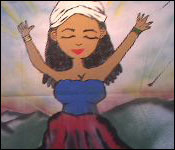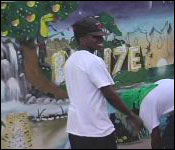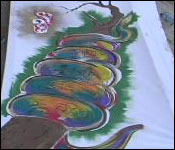 Graffiti is often seen as counter-culture and written off as vandalism - but there is an often overlooked public art aspect that redeems this much maligned street art form.
And Last week Saturday at the Street Art Festival, the Belize Tourism Board held a graffiti art competition to promote interest and participation by young artists.
They had to design graffiti art themed around the representation of Belizean culture, and the artists had to create their pieces within 3 hours live before an audience of streetwalkers. Today the BTB announced the 3 best pieces.
We spoke to the artists about their inspiration:
Kristian Carter - 1st Place, Street Art Graffiti Contest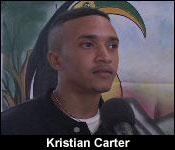 "I like the Mayans of course, so I had that basic idea for the landscape, from the bottom, and then everyone else joined in with their ideas, and pitched in what they can do. Everyone worked very hard toward it. It was a very great experience for me. I like it; I enjoyed it. It was a nice idea."
Brads Steadman - 2nd Place, Street Art Graffiti Contest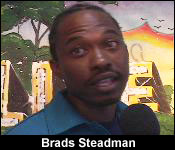 "This piece was - I had it a long time. I created a lot of pieces, and I just drew out one from the books, and I brought it forward because they told me that they wanted something about Belize. I am a person who likes to mix and match color, and I like detail. This is how I like to come up with my stuff."
Micah Vernon - 3rd Place, Street Art Graffiti Contest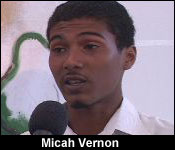 "When I hear Belize, I think about our natural resources, our flora and fauna, the people, their characteristics, their ways, the different cultures that we have in Belize mesh to beautifully together. So, after considering all this information, I sat for a while, and I thought. Nothing was coming to me at first, but then, it hit me like a spark. I need to something that shows how all of these come in to play simultaneously, having my effect into it because I am a person, my art is very different."
The first place winners were a team including Kristian Carter, Shantel Carter, Moises Grenados, and Miguel Chan. All of the 7 artists were given various tour packages around the country as part of their prize.