Posted By:

Marty
Belize Turns Head At Caribbean Fashion Week -

06/11/13

11:06 AM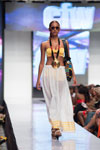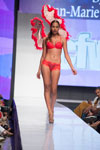 Last week was Caribbean Fashion Week in Kingston Jamaica – and a number of notable Belizean ladies were turning heads. Prominent among them was the Prime Minister's wife, Kim Barrow seen here on Friday night, wearing and posing with Belizean designer Joris Hendrik.
Barrow told the Jamaica Gleaner she was there to foster the fashion industry in Belize and networking for a fashion show in Belize. Also there was singer Jackie Castillo, also seen in a Joris Hendrik design.
And while they watched – Belizean model Chante Guy did her thing on the catwalk alongside supermodels from the Caribbean modeling agency, Pulse. She modeled on Friday, Saturday and Sunday wearing outfits form a number of designers. These images are from Glympze Magazine.