Posted By:

Marty
OCEANA Celebrates A Passion For Water -

06/11/13

11:03 AM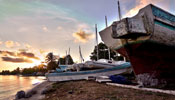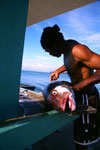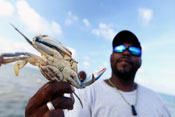 Saturday June 8th was World Oceans Day and to celebrate it, OCEANA mounted a photo exhibit at the Radisson and celebrated those who champion the wellbeing of the seas.


The exhibit, titled "Sea People" set out to capture fisherfolk – and their life on the water. The image-maker was Alex Ellis – and he told us what he saw through his lens.



E. Alex Ellis - Image-maker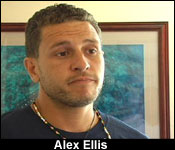 "It's a collection of photographs, various coastal communities around the country displaying Belizeans and their connection and how they interact with the marine environment. So you have images from Sarteneja, images from Mullins River, Hopkins, you name it, the length of the country"
Daniel Ortiz
"What is some of the striking stories you can recall?"
E. Alex Ellis
"One in particular, we went down far south, sarstoon south with Will Maheia and when we got to the community down there, what's shocking there is an image where you see a Guatemalan gillnet fisher, but it was amazing just to see the amount of gill nets"
Daniel Ortiz
"And do you get the feeling that Belize fishermen care about conservation on a whole?"
E. Alex Ellis
"Yes, I think they do, they are definitely worried about the future of their industry, but they're just concerned that it's done in a way that is sustainable, to both the environment and themselves"
The photos are exhibited in the lobbies of both the Villa Wing and the Colonial Wing of the Radisson. They will remain on display until this week Friday, June 14th.
And OCEANA also presented its WAVEMAKER and Oceana Hero Award. Today, Vice President, Audrey Matura Shepherd told us who won.
Audrey Matura Shepherd - OCEANA Belize Vice President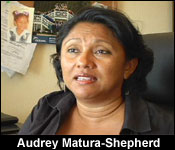 "And this years' wave maker award usually goes to a person who comes out and helps to promote our work or to keep on promoting the issue of marine conservation and that went this year to the Ottley family. We had to give it to the entire family because these are interesting folks, they never move alone, when the mother comes, the children and everybody comes on to help us with our work so we gave it to the family, they were surprised, they didn't expect it. Then the ocean hero award usually goes to someone who has dedicated their life to protecting our marine resources and this years' recipient was Dr. Melanie Mcfield, we thought she was very deserving of it because you notice that she uses her science, her knowledge and she's very good at explaining issues to make sure that in this country we are always aware as to why we shouldn't do certain things. Annually she does these dives to keep on monitoring the health of our reef through our reef initiative where she works"