Posted By:

Marty
Are Quotas Needed To Get Women Into Politics? -

12/11/12

02:02 PM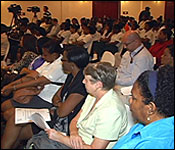 You might not know it, but in 2011 Belize was tied for dead last position on the Gender Gap Index as it related to political empowerment of women.
We were tied with Saudi Arabia, Qatar and Brunei - which are Islamic Monarchies - so, definitely not good company in terms of women rights.
Women's activists say something has to be done about it and that is the subject of a major new study. It's called The Situation analysis of Gender and Politics in Belize 1998 - 2012.
It makes a sweeping study to understand why women have been largely excluded from political representation. The book was launched today at the Biltmore Best Western. Executive Director of the National Women's Commission, Anne Marie Williams told us why it is so important:...
Ann-Marie Williams - National Women's Commission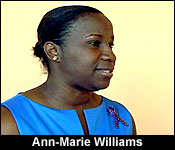 "The importance of this study is to get everyone involve in trying to raise women's political representation. If you notice there are recommendations for government for political parties and for civil society and other organizations. It is important because its justice, its party and its actually right for women."
Jules Vasquez
"We live in a system where you cannot be selected to do something - you must be elected."
Ann-Marie Williams
"We are at a juncture where a lot of people vote against their own economic interest. We are in a time when we would say 3-4 candidates and often times it's not necessary the best one that wins. It's usually - you have the most money - it's almost to say, you be the minister, you be the representative and that - we have to change that."
Debra Lewis, Consultant
"Really the key thing is really the implementation of what's called temporary special measures. If you look at the experience worldwide for example there are 32 countries that have more than 30% women in their national legislatures, 28 of those countries have used some form of assistance to get there and the majority of people I spoke to thorough interviews and focus groups for the project agree that that's the case - that we really aren't going to get to where we need to be in Belize without taking that kind of action."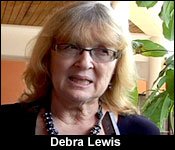 Reporter
"Is assistance tantamount to forcing women on an electorate?"
Debra Lewis, Consultant
"I don't think it's that set at all. Right now we can argue that our system forces men on the electorate. Really it's a way of really making our democracy better because what the study shows that there are actually concrete barriers to women's participation in the political process."
Jules Vasquez
"My experience is that women enter conventions - women lose. It's the will of the voters - they can vote freely and women enter these conventions and lose."
Debra Lewis, Consultant
"There us freely and there is freely - there are a lot of barriers, so it's really important to look at the barriers and all of those stages to determine whether we really do have a level playing field for women and men and the research shows that in fact we don't."
Jules Vasquez
"It's a man's world which means often times that many systems are corrupt and run on a corrupt basis and perhaps that is why women are: A) alienated from the process B) systematically excluded because many times women are not as comfortable in engaging in corruption as men are."
Ann-Marie Williams
"That is true and that's why I said we need to get involve to help to inject the change that is necessary. Changes are never overnight; we just can't lie down and die."
Debra Lewis, Consultant
"Women told me that absolutely one of the reasons that they don't either get involve or sometimes get involve and are successful and leave, decide not to run again for example - is because they don't want to be in a position where their personal integrity is being compromise, they are not willing to participate in a system where the kind of unethical and kind of dealings that often go on - go on and so they just make a decision to leave."
Ann-Marie Williams
"This is why we need to raise a critical mass of women. We need to put the different group in place to help to support women. I am working for the generations to come and trust me it will come but it won't come if we just lie down and die - we need to fight."
The analysis includes a list of detailed recommendations for civil society, government and political parties.
---
Situation Analysis of Gender and Politics in Belize; women far behind
Also in the political arena, a report on gender and politics was released this morning by the National Women's Commission and the scale is heavily tipped in favor of men. The report looks at the situation of women's representation globally, in the Caribbean region and narrows it down to Belize.  It also studied the data from village, municipal and national elections and interviewed both men and women involved in the political process in the past fourteen years. After a year of analysis, the report concludes that Belizean women are way at the bottom in politics. News Five's Delahnie Bain reports.
Delahnie Bain, Reporting
Toward Equality of Opportunity for Equality of Results; a Situation Analysis of Gender and Politics in Belize provides a comprehensive look at the participation and representation of women in electoral politics. The last such study, according to the Executive Director of the National Women's Commission, Ann-Marie Williams, was in 1998.
Ann-Marie Williams, Executive Director, National Women's Commission
"It's one of the many activities that is put out under this Strengthening Women in Democracy project. It happened to be an important piece of work. It was timed to look at the situation of gender and politics in Belize because the commission did a first work and since 1998, there's been no new body of work. So it was timely. The other thing, as we all know, we need to raise women's political representation and so it's an opportunity to look at the situation on the ground, what exactly is happening."
But despite ongoing programs to train potential female candidates, the publication, launched today, paints a dismal picture.
Debra Lewis, Consultant, Situation Analysis
"Only three point one percent of our elected members of the legislature in this round are women. That's one out of thirty-one. At Belize City Council, we've actually gone backwards over the last ten years or so. In 2003, we kind of hit a pinnacle when just over half of the members of the City Council were women; six out of eleven. Since that time, the numbers have decreased in every election since to the point now that we have only one out of the eleven members being female. So in that case it's really been a case of one step forward two steps back."
In 2003 there was a spike in the number of women who took part in the town board and village council elections, but those numbers are also declining  as Consultant, Debra Lewis explains.
Debra Lewis
"When we look at town boards, we find that less than twenty percent of the members of town boards are women and in this case too, the numbers have actually declined over the last few elections. We were actually up over twenty percent for a few years and in this year's election we actually dipped below that level for the first time in about ten years. When we look at village councils, we find that about one and a half out of seven village council members on average are women. And this varies quite a bit by district but when you look at the national picture, I think it's one point six two out of seven. More than a quarter of village councils in Belize have no women at all."
While it's not good news, the information and recommendations in the situation analysis will be used to create strategies for improved statistics.
Debra Lewis
"Making change is going to require these kinds of things; developing women as a political block, temporary special measures or quotas, addressing the role of political parties as gate keepers to our political process, empowering women to run and changing the culture of political institutions."
Ann-Marie Williams
"It's time now for people to look seriously at the recommendations—political parties, government and civil society—to see what is it that we will put in place to do this. I am happy that the minister of education, the Honorable Patrick Faber, who served as a member of the advisory committee for this project, when we had a presentation he actually said at the presentation—and I'm not telling tales out of school—that he would like to sit down with the somebody from the People's United Party to look at what both parties can do to help to fast track women's political leadership and that is encouraging."
But there is plenty of work to be done, since Belize has only one female elected representative and millennium development goal number three requires that women hold thirty percent of seats in the National Assembly. Guyana is the only country in the region that has achieved that goal following the implementation of a quota system in the constitutional reform of 2000.
Deborah Backer, Deputy Speaker, National Assembly of Guyana
"Women should be involved and participate in the corridors of power so that when agendas are being set, when policies are being thought of, we are there to make our voices heard. So it is important that we take part. And secondly, we must go into politics to be the agents of change. Debra spoke about the old boys club, the disconnect with the population—we cannot want ten more women in Belize at least to get into politics by 2017, if they are going to go and continue with business as usual. We must be the agents of change."
Debra Lewis
"When you look at the Latin American/Caribbean region as a whole, we find that it's just over the global average at about twenty-one/twenty-two percent but when we look at the average for the English Speaking Caribbean, we do much worse and the average for the English Speaking Caribbean is less than fifteen percent. So there's quite a difference there. And of course, Belize sits at the bottom of the list, even within the Caribbean at three point one percent."
The report took almost a year to complete since it includes the data from this year's general and municipal elections. Delahnie Bain for News Five.
The project was funded by the United Nations Development Programme.