Posted By:

Marty
Gino's Justice: Does It Create A Gun Law Loophole? -

02/04/14

09:27 AM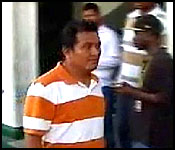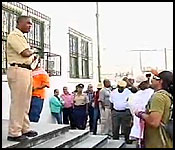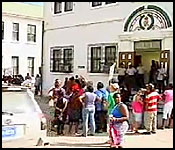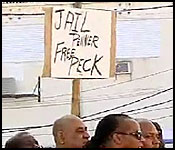 Here at 7News we've reported on numerous cases of persons getting convicted of firearm offences. Our archive is littered with stories of these convictions where the defendants, who are ordinary Belizeans, are sent automatically to jail for a mandatory minimum of 5 years for keeping an unlicensed firearm or ammunition or 3 years keeping prohibited firearm or ammunition.
Since Amendments to the Firearms Act were passed in the House in 2008, and then 2010, the discretion of the Magistrate was believed to have been taken away and replaced with a mandatory prison sentence.
But that's not what happened on Friday afternoon, with Corporal Gino Peck. His attorney, Simeon Sampson, invoked Section 54 of the Summary Jurisdiction Procedure Act in which, on the face of it, seems to give back discretion to the Magistrate. This act says that even if a law says that a mandatory prison sentence is the only penalty for convicted offenders, the Magistrate can impose a fine if the justice in the case requires it.
So, Peck became the first person convicted of firearm offences, who wasn't sent to jail because Chief Magistrate Ann Marie Smith used that discretion under the act. Tonight, Daniel Ortiz has a look back at what happened of Friday, which has now set a compelling precedent:
Daniel Ortiz reporting
With the public behind Corporal Gino Peck, he got an unexpected ending to his case. As a person convicted of firearm offence, he was staring down a mandatory minimum sentence of 5 years and 3 years in jail, but with public outcry, the support of the police department, and the mitigation plea made on his behalf, Gino got a last-minute reprieve.
Simeon Sampson, SC - Attorney for Cpl. Gino Peck

"With the assistance of the DPP we were shown a section of the law, a summary jurisdiction procedure act. This section of the law permits/allows, makes it permissible for the magistrate to impose a fine instead of sending the man to jail and that was what happen. Mr. Peck is now paying his fine and he is not going to jail."
Commissioner of Police Allen Whylie, Lyndon Guiseppe, the Chairman of the Belize Bank, and Retired Pastor Ottley from the Nazarene Church gave character witnesses on Peck's behalf for the Chief Magistrate to consider. The Commissioner said that he's pleased that he could have assisted a fellow officer to avoid jail time.
Allen Whylie - Commissioner of Police
"kept properly tempered justice with mercy in her decision making and so I must say that we are very pleased at the outcome that Mr. Peck was speared a custodial sentence."
Daniel Ortiz
"Sir, tell us some of the things you made mention of while giving a mitigation plea on behalf of Mr. Peck."
Allen Whylie - Commissioner of Police

"Well as I testified I had known him for 22 years, his entire police career and he was a dedicated and committed officer who always answered the call for duty. He was also a family man; a father, a husband and my understand he was a excellent father and family man and those were the things I shared with the court."
Though it is a step in the right direction, the officers who sympathize with Peck are not satisfied because Peck now has a police record, something they say he doesn't deserve. It could cause his pension, gratuity and years of service to be voided.
Supt. Calbert Flowers - Deputy OC, Police Precinct 2
"We'll still be in the process of appealing this matter to relieve from these charges all together."
Mike Rudon, Reporter Ch5
"Just to clarify - that would have been justice in your point if he would have been cleared completely."
ASP Calbert Flowers - Deputy OC, Police Precinct #2

"Right, that would have been justice in my eye."
Daniel Ortiz
"Can you explain to us what is going to happen now with Mr. Peck's tenure and pension? Is that at jeopardy, is that at risk because of this conviction?"
Allen Whylie - Commissioner of Police
"His case has just concluded, I will review and then we decide where we go from there. It will be premature at this point in time to say anything else on that matter."
Daniel Ortiz
"Will he be facing disciplinary charges in addition to this conviction or is this conviction as far as it goes when it comes to his punishments?"
Allen Whylie, Commissioner of Police
"Again I will say that its premature at this juncture. I need to look at the entire situation and see where we go from here."
Supt. Linden Flowers, Commandant Police Training Academy

"I have known Gino Peck from 1st September, 1997 when I became the commander of the Violent Criminal Apprehension Program in Belize City. We have worked together on many cases including the Brodies robbery where over 25 firearms were stolen, a large number of ammunition was stolen and recovered. Persons like Gino Peck, Egbert Castillo, Samuel Bonilla and ASP Christopher Noble worked under my command during that time. Countless hours in Belize City, sleepless nights. If I am to stand and speak on behalf of anyone, it would be Gino Peck."
"I've not been satisfied with the events from the time leading up to Gino Peck's arrest and detention. It could have been dealt with differently. The powers that be at the time on the police department for one reason or the other blinked."
Daniel Ortiz
"Do you support the notion that if other Officers were search right now, ammunition would be found in their home. Isn't this something out of the ordinary?"
Supt. Linden Flowers, Commandant Police Training Academy
"It is something that is not unusual for officers to have ammunition at their house. The laws are there to be upheld. It is not to be rampantly used to and from. Gino Peck was in a particular position that he was at any time of the day called upon to respond to situations. As a former officer of the Serious Crimes Squad and operational units, I have and until current (I will not tell you where I live) have had to keep and use ammunition that is there. It is one that we will immediately take a stock of because from time to time you can be exposed to the ills of the law."
And when Gino, the man of the hour, exited the court, his supporters swarmed him, congratulations and well wishes all around.
Gino Peck

"I cannot say much about the case because it's still before the court, so i will left it as that."
Daniel Ortiz
"But how do you feel right now?"
Gino Peck
"One thing I want to say is that I want to thank everybody from the bottom of my heart from every person who have supported me today."
Daniel Ortiz
"You may or may not be happy with the way how the situation was handled with the police, but are you satisfied that the people you serve backed up today?"
Gino Peck
"Of course, that's what I've said. It touched my heart, but like I said when you always do the right thing, you will always succeed."
Loretta Peck - Wife of Gino Peck

"The whole nation was with me and I thank God for the results. Thanks to the police department, the association and everybody who was here thanks very much."
The gun laws have been under attack from grassroots activists, but now, members of the Bar have joined them. Senior Counsel Sampson intends to bring a constitutional challenge.
Simeon Sampson, SC - Attorney for Cpl. Gino Peck
"A few senior counsels have joined me (it's a very interesting point in law). It has to do with these mandatory minimum sentences; you must go to jail for atleast 3, 4, 5 years and we will be saying to the high court to have a look at it because it appears to be unconstitutional. So later we shall be filing a constitutional motion to look into that law."
Daniel Ortiz
"In line with that gun law reform that the activist are trying to bring?"
Simeon Sampson, SC - Attorney for Cpl. Gino Peck
"We will try to rope in everything that is relevant to relief this situation that is affecting the minds of the public - justifiably so."
Marion Ali, reporter
"This is something that is unusual, you haven't done something like this before?"
Simeon Sampson, SC - Attorney for Cpl. Gino Peck
"Not in my experience, this is novel."
Supt. Linden Flowers, Commandant Police Training Academy
"The law is there to protect against use or selling or contra-banding firearms or ammunition and it is a day that we will take stock of."
Viewers may recall that at the time of the amendments to the Firearms Act of 2008 and 2010, the Barrow Administration introduced them to the house as a sort of cracking down on gun crimes. The immediate concern that has emerged in the wake of the Gino Peck Sentence from the Chief Magistrate that a precedent has been set, and that it could completely nullify the effects of these amendments.
Concerned legal minds are suggesting that a loophole has either been created or revealed in the law after Friday's events in the Peck case. The belief is that criminals have now found a way to bypass incarceration when they do get caught by law enforcement.
DPP Cheryl-Lynn Vidal has apparently been receiving requests all day today about those concerns, and today she released a statement about it. She stated for the record that when she directed the court to Summary Jurisdiction Procedure Act, she was doing so because she felt obligated to do so. She also says that she indicated to the court that she did not have any time to research it, so her office did not have a firm legal position it. According to Vidal, Chief Magistrate Anne Marie Smith then immediately assumed the jurisdiction under the law and proceeded to pass sentence. She didn't accept any submissions from either side.
Vidal also said that she also saw the loophole for sexual offences which carry a mandatory jail sentence, so during the last criminal code amendment last year, she made submissions to the drafters persons and the cabinet subcommittee to include a clause in the new amendment to combat specifically that matter. That clause was included so it circumvents the loophole for sexual offences.
Turning now to the other Vidal, that's Superintendent Marco Vidal, Commander of the GSU. On Friday, we showed you our attempts to speak with him. He said that he couldn't comment about the case because it was still before the court.
Well, the case is done, and this morning at 1:30 a.m., he sent a statement via email. First, Vidal states for the record that the search conducted on Gino Peck's home in January 2012 was an intelligence led operation which had been discussed with and sanctioned by the then Commissioner of Police, David Henderson.
Vidal continues that the charges were also laid with Commissioner Henderson's permission, and it was only after they were laid that a directive was given to abort the proceedings. Vidal says that by that time, the matter was out of the GSU's hands.
Directly addressing the rumours that it's personal, Vidal says, quote:
"The suggestion that the case against Peck was motivated by some personal vendetta is preposterous. My interaction with Peck during the course of our careers has been at best, minimal. This, however, seems, of late, to be the cry of anyone who finds himself on the wrong end of the law, regardless of how remote or incredible the association."
He adds, quote, "Peck is not the only police officer against whom the Unit has laid a charge. It gives us no pleasure to charge an officer sworn…but for us, an offender is an offender whether he wears a uniform or not."
The release continues that Marco Vidal and the GSU are satisfied that Justice was served when he was convicted of the charges, and though sentencing is an exercise for the courts, they had discussed it as a unit and agreed that there was no useful purpose for Peck to be sent to jail. Vidal adds that they found it appropriate that Peck faced trial, especially since he was never brought up on disciplinary charges.
We understand the statement has angered some higher - up's in the Department since it seems to go against the Departmental position put out by Commissioner Whylie last week. So, the Peck case is done, but the aftershocks, not yet..