Posted By:

Short
Concerns about Cruiseship Island: Stake Bank Caye -

10/10/07

07:59 PM
Conservation Lobby: Stake Bank Project Poses Serious Risks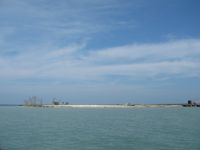 Three weeks ago, we showed you an interview with cruise tourism developer Mike Feinstein and his ambitious plan to build what's known as a Genesis Class cruise terminal on Stake Bank Caye. We promised a follow up on the environmental issues surrounding that project but intervening events slowed that down.

Feinstein has been busy battling competing developer Luke Espat who's gone to the Supreme Court to get an injunction barring government from giving him a port license. And when not battling, reports say he's been busy negotiating with the financiers of that same Luke Espat project. If it sounds like one step up and one step back – it is just that in the tango for power and pre-eminence in the very lucrative cruise industry.

And while Feinstein is all tied up with that tango, he'd better be sharp on his step because the conservationist lobby is asking to cut in. The truth is that while the battle for Stake Bank is largely for commercial leverage, there's also a conservation consideration and as we found out today, it's not one to be taken lightly.
Jules Vasquez Reporting,
This is what stake bank looks like today - a slab of white, its been stripped of its dense mangrove vegetation and it's being dredged to make way for this, a 3D rendering of what developers say Stake Bank Caye will look like in a two years when it's all finished. There's also a plan for nearby North Drowned Caye – that one will have residential homes, condominiums and hotels.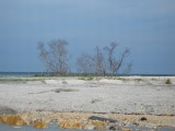 At 515 acres North Drowned Caye is many times larger than Stake Bank. But they are adjacent to each other, actually less then 3 miles apart – and the Swallow Caye Manatee Reserve lies between them both. The cayes will be connected to Belize City by a causeway, which will run from Belize City to Stake Bank then unto North Drowned Caye, a total of 4.75 miles – a portion of it spanning the Swallow Caye Reserve. It's a crossroads between mega development and conservation – and today we visited the proposed area with conservationists Nicole Auil, Lionel 'Chocolate' Heredia and the Belize Audubon Society's Tanya Williams Thompson. They view the project with consternation:
Lionel 'Chocolate' Heredia.
"It mek me feel very very bad Jules because then all my plans and all my ambition to left something after I die, seeing this thing it makes me want to cry because I neva expected one day when I was fighting for Swallow Caye, I never expected one day I will see something like this because our boundary, when we were measuring, it was right there to the point there."v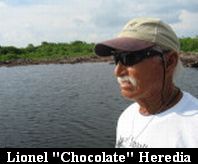 Nicole Auil,


[i]"When we see this type of degradation happening in the environment that also affects…our two biggest income earners are actually tourism and fisheries. Sea grass degradation impacts juvenile fish life cycles. This isn't just a habitat for manatees, its also a habitat for other types of crustaceans and fish that we rely on for our fisheries industry."
Tanya Williams-Thompson,
"For me the concern is about the activities that took place here. Did the developer ensure that proper mitigation measures were put into place? That is our main concern at this point. We may not agree with the project firstly. It is sited on a caye that should have been left as a mangrove caye. It should not have been put under development."
But developer Mike Feinstein is of a decidedly different view. His projects have gotten all the required environmental clearances – and he says that's because it poses no threat to marine life.
Jules Vasquez,
Many people have criticized the dredge work that has been done at Stake Bank Caye and at North Drowned Caye and they worry about the environmental consequences that that will invoke and secondly the consequences invoked by building a causeway across from the city, it will go what, six miles to Stake Bank.
Mike Feinstein,
"The entire causeway is 4.75 miles and it's being done all over the world and there is no impact. We've already been through this with the environmental assessment. There is no impact, absolutely."
Tanya Williams-Thompson,
"Think about it, it sits right alongside a protected area, a protected area that was protected for manatees who forage on sea grass. Dredging can cause sedimentation on sea grass and if he doesn't put silk curtains etc., sediments can go on the sea grass and kill them, which is the main food for manatees and other wildlife."
And while the general environmental impacts are one thing, the impacts on manatees are another. They live in and traffic the area that the causeway will cover but Feinstein says it poses no detriment to them:
Mike Feinstein,
"Bridges have been known to harbour life, not scare life away. I don't think we need to explain that. Everyone knows that so the only concern that I have heard is that the noise factor of traffic going on the bridge itself would scare manatees. That is the only thing I have heard negative. And scare them what, one mile off? I don't see that as a factor."
Lionel 'Chocolate' Heredia,
"What he says, that's bull--- because he doesn't know nothing about manatees. The manatees would never come around here because de-vegetation and the traffic, the pollution of the water. And when they start to build that causeway, you know what will happen when they finish that, they won't exist any more manatee around this area, none at all."
Jules Vasquez,
The ten or eleven manatees that are in this area, can't they just find sea grass? The sea is so vast. Can't they find somewhere else to go feed?
Lionel 'Chocolate' Heredia,
"Manatees got a spot where they go and spend of the time but they have a spot where they go and eat all the time in the same spot."
Nicole Auil,
"What can happen in this case is that you're likely going to have deaths in construction, in all phases of construction. We know manatees are slow movers. I have various sightings of manatees here in North Drowned Caye. There are channels in North Drowned Caye that I have seen mating herds in there, they will not be able to utilize those areas."
Jules Vasquez,
Manatees are dying from boats. Manatees will die wherever they come close to humans, that's life. So we can't stop development because manatees die when they come in proximity to humans. We can't stop the boats trafficking the sea.
Nicole Auil,
"So we're now having the boats, we're having the reduction of vegetation, we're having possibility of movement or having a reduction of the wildlife sanctuary size, we're also facing issues in other locations. So we can take these little bits and say yes that's not a problem, and that's not a problem, and that's a problem. But let's put them all together and what does it mean?"
And while Auil and Chocolate have very grave concerns for the manatees in this area, these conservationists say the entire project is fraught with misgivings.
Lionel 'Chocolate' Heredia,
"I tell you Jules, some days I sit down and I don't know what to do because I never went to school, nature was my desire, and I'm just learning and finding people to help me to fight for this place because I really want to leave something for the other generation of Belize and this was my desire. When I heard this thing, what's going on here, I couldn't even believe it."
Jules Vasquez,
If I'm a developer, at this point I would argue that's a dime holding up a dollar. This is a multimillion dollar project. Tens of millions of U.S. dollars will be spent here and manatees, four manatees, they will find sea grass, Belize is surrounded by sea grass. What's the big deal?
Tanya Williams-Thompson,
"Then my question would be why do tourists come to Belize. They come to Belize for our natural resources. If they do not exist, they won't come to Belize. So you cannot destroy what exactly your development will depend on; tourism. You cannot destroy your natural resources because you want to build a big project. You will destroy exactly what you need to make your money."
http://www.7newsbelize.com/archive/10090712.html