Posted By:

Marty
Law Enforcement Training In Money Laundering -

01/10/12

02:21 PM
Magistrates, Police Prosecutors Trained In Money Laundering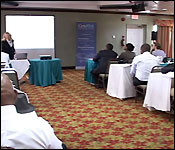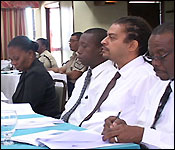 Today, the lower Belize City was virtually inactive - and that's because magistrates and police prosecutors were busy in a training seminar at the Radisson.
It's part of the Rule of Law Initiative sponsored by the American Bar Association. This time, they are focusing on money laundering and other white collar crimes - the kind that is very rarely prosecuted in Belize's courts.
Antoinette Moore, who is facilitating on behalf of the American Bar Association told us that is why the training is important:..
Antoinette Moore, Rule of Law Initiative
"This is a two day training for magistrates, crown counsel, from the DPPs office as well as police persecutors are all participating. The training is generally on trans-national crime which includes of course drug trafficking and anti-money laundering."
"On Wednesday of this week we will have a one day training in which the Supreme Court justices will participate and the person who will lead that training is a justice from Sierra Leone who has kindly come all the way here to work with our Supreme Court justices."
Jules Vasquez
"How is this trying to strengthening the rule of law?"
Antoinette Moore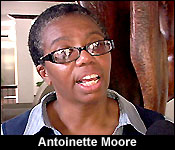 "Obviously this is to build the capacity of the justice sector in this area. It's an emerging area; it's an area in which we have not had. As you know many cases in the courts and we certainly have not had many effective or successful cases in the court, so we think that as we've seen worldwide those persons who are engage in crimes are also very much engage in trying to hide the earnings of that crime and we do believe we will see more and more of these cases, so it's important to build the capacity of all individuals who will have any involvement in these matters."
"Yes the purpose of the training is to help us at all levels; magistrate level, the Supreme Court level at the investigative level to deal with these matters and hopefully result in more persecutions and in convictions."
Dominic Le Moignan, Director - Govrisk
"Because of various different global factors there is a great pressure on organizations to follow money laundering. So this is connected with the flow of drugs and particularly very wealthy large drug dealers. There are various global organizations have thought that the best way to stop this flow of drugs is to stop the flow money. So it's the dirty money getting into banking systems, so there is a great pressure on organizations like Belize but many other jurisdictions to stop this dirty money coming into their countries."
"The reason for the training is that Belize is in a lot of pressure from international organizations to address this, to see successful persecutions coming through the courts. The other thing I would say is that by showing the international community that Belize takes these issues seriously that they have a robust financial system it is possible therefore to attract international investment from outside sources because they feel that the money that they invest is Belize is safe and they are a part of an ethical system."
Jules Vasquez
"The Europeans centers are banking power; Switzerland, the Channel Islands, Isle of Man; these countries have been specialized in secretive banking and money laundering for decades. Now that we are impinging on their monopoly, on money laundering, organizations such as yours spring up and demand that we clean up our acts."
Dominic Le Moignan, Director - Govrisk

"The first point to clarify is that we give assistance in the academic side. We don't do any of the enforcing side. This is done international pressure; the Financial Action Task Force, the SCC from the US, do indeed put pressure on other jurisdictions but I think that I would be open to say that every jurisdiction in the world faces issues of money laundering."
The training runs until Wednesday - and there will also be sessions for police next week.