Posted By:

Marty
New Correctional Facility Is Ready -

01/13/13

01:48 PM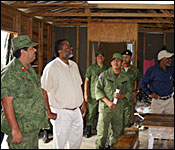 Last night on the news you heard the Police Minister speak about a new facility in Pine ridge for wayward young men. Well, today, they've provided pictures.
It is in the Mountain Pine Ridge Area at the location of the former D'Silva Forest Station, which has been refurbished and renamed the Corrective Training Facility.
It seeks to provide an alternate correctional environment other than the Belize Central Prison. Minister of National Security, John Saldivar, his CEO, and the heads of Belize Defence Force all toured the facility to see the progress of its preparation. This new facility will be managed and controlled by members of the BDF. According to the Minister and his team, the facility is now ready for the first inmates.
At this time, there is no information from the National Security Ministry about what type of juvenile offenders will sent to this facility instead of the Belize Central Prison.