Posted By:

Marty
Sports Council Beats FFB In Court -

09/17/11

01:56 PM
Things have been patched up between the Ministry of Sports and the Football Federation of Belize after FIFA reigned in the Federation. But there was s till a matter pending in court.
It dates back to June when Montserrat was supposed to come to Belize to play a world cup qualifier and the ministry of sports said the FFB had been decertified and so it would not make police available for security purposes.
The FFB argued that the Government was compelled to do so and asked for an injunction stopping government form stopping the police form providing security.
As we said - It's a moot point now since things have been patched up - but today in court, the judgment was delivered by Justice Minette Hafiz.
She dismissed the FFB's application for an injunction and awarded cost to the National sports Council.
Sports Ministry spokesperson Miley Garcia was careful not to gloat when we spoke to him about it today:.
Miley Garcia, Sports Ministry spokesperson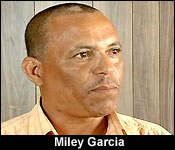 "Madam Hafiz passed down her judgment and essentially what she did was dismissed the claim of the FFB and awarded us cost also."
Jules Vasquez
"Now you all have basically made peace with the FFB, how was this consequential?"
Miley Garcia, Sports Ministry spokesperson
"I think that by now the case didn't have much bearing on what was happening."
The ministry is now providing assistance to the national team.