Posted By:

Marty
No-Go For Three On Three National Team -

09/19/12

12:31 PM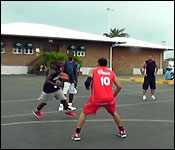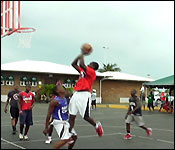 In July and August, we told you about the National Three on Three Basketball Tournament.
At the end of it, the winners from the senior category went to a tournament in New York - and the a select team from the under 18 tournament would go to the three on three world championships in Spain from September 27 to 30th.
The World Championships is the more prestigious event as Belize will be there among 31 other countries.
But, unless some miracle happens in the next 15 hours, the team won't make it. That's because the Belize Basketball Federation doesn't have the money to send them and their sponsors are tapped out.
President Paul Thompson explained why the trip might not happen for the four players:
Paul Thompson - President, BBF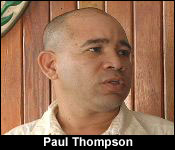 "At this point, the participation for Belize is in jeopardy due to the fact that fund raising has been challenging. We have had commitment from the Belize Olympic Committee to purchase 4 tickets for our players, however, we need to get visas for our players and for the coach to travel along with the team. It's been challenging, as I said; we've gone to many private sector partners, and nothing has come up so far. So now, it's our obligation the federation to let the public know that this opportunity to participate in the world championship, the window is closing fast."
Jules Vasquez
"I've seen in the press release; it outlines that we already have a draw. We're already penciled in to play."
Paul Thompson
"There is a draw that has been published already, and we are one of 32 teams. There are 4 groups, and we are in group A. The opportunity to compete against these countries , the exposure is tremendous. You never know who you're going to meet; you never know what connections you're going to make. The networking is amazing. Recently, you did a story on a young man that participated in the King James tournament in Cleveland, and he got a scholarship to finish high school. You detailed on your newscast about the impact that this had on his life, and how it has impacted him positively, so we can't tell what impact it will have in the future. But, we know that just by exposure, there are only good things that can happen out of it. For federations like us, participating in these events is dependent on several different organizations and partners. You have the Belize Olympic Committee, who are always very helpful, the Government of Belize, and there is the private sector, who have all helped in the past. I guess these are hard times, so it's challenging to come up with funds. But if it is that we would say that we raise funds to participate in these events, we would never go. We have to commit and then fight to get funding for these things. That's the nature of the beast."
And so why isn't the Ministry of Sports helping - since the Federation has already managed to get four tickets?
Well, the answer is as long as it is short.
Today we put it to the minister with responsibility for sports Herman Longsworth - and got into a wider discussion of sports in general.
Here's how that conversation went:
Jules Vasquez
"Why isn't the Ministry of Sports assisting in such a noble effort?"
Hon. Herman Longsworth - Minister of State/Sports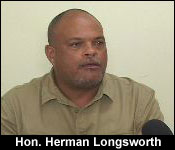 "I don't know that the Ministry of Sport isn't assisting, Jules. We have been approached by the Belize Basketball Federation, and we have indicated that we can assist. We cannot give them all that they want. And I've said to them that they must try to source some of it themselves, but we are prepared to assist. They've given us a budget of just over $14,000. We cannot afford that for a one-off representation. We just recently gave them money to go to New York."
Jules Vasquez
"Is the Ministry of Sports; is the priority on this international representation? It appears important. These young men have played in a national tournament, and now the best have been selected."
Hon. Herman Longsworth
"Jules, that is the big question, and I need to say here that the priority for the Ministry of Sports is no longer on representation for the sake of representation. We must move our priorities down to where we impact on the biggest number of people. We're not saying that we are not going to assist in any way we can with those who want to participate internationally. We're saying that we have had to prioritize ourselves because we only have a certain amount resources here, and we feel that we aren't impacting the kind of numbers that we should. We feel that we aren't impacting on society by putting the majority of our resources into international competition. That's all we're saying."
Jules Vasquez
"But from an aspirational perspective, isn't important that we have representation and we know that basketball specifically, is something that Belize has excelled on. You know that the boys high school team recently won gold in regional games. Inspirationally, isn't it important?"
Hon. Herman Longsworth
"It is. That should be the goal that athletes move towards, but it is a question of putting the cart before the horse, Jules, or which is the chicken and which is the egg. How do we achieve proper representation if we don't build the base that we will get the athletes from to represent. We aren't doing it the way we should be doing it. We must build our athletes fundamentally, before we can properly represent internationally."
Jules Vasquez
"But, we've been doing so poorly locally in so far as we don't have a facility for track. We don't have a facility for basketball and volleyball that's working right now. Last year, the primary school football tournament was played in a day. I'm saying that we aren't succeeding at the primary school level."
Hon. Herman Longsworth
"That is exactly what I am saying, Jules. We have not been putting the emphasis where we should have been putting it, and we must now change that. We must see local competitions happen all year round instead of a one-off, one weekend competition. That does not give any incentive to our children to really want to participate. It's difficult to convince people, but it's something we must do, and the though decisions have to be made. I will have to make them, and I will have to suffer the consequences, but if I am confident that I am working toward the development Belize by moving the resources to where we plan to move it, then I will have to live with that decision, Jules, because that is what the people elected me for."
Jules Vasquez
"If we wait for the speed of things which the government does, things will never happen. How long has your government been working on Marion Jones, for all of last term, and going into this term. I'm saying that you all move at glacial pace."
Hon. Herman Longsworth
"No Jules, don't do that. Look at what - and I invite you to come to Marion Jones to see what it is out there. Again - and this is our fault to a large extent, we don't show people what we're doing. Marion Jones has moved considerably from where it was to where it is now. It has, and people need to see that. I invite you come over and see what we have there."
And while the Ministry apparently won't come through, The BBF is still seeking the support of the public for any financial support. If you would like to help, you can call 600-4480 or 610-1707.