Posted By:

Marty
First Election For Olympic Committee In Decades -

02/19/13

02:09 PM
The Belize Olympic And commonwealth Games Association may be the most important sporting body in Belize. That's because at one point or another, every association and Federation from the mighty FFB to the fledgling Fencing Association has to go through the Olympic Association to get funding for travel or training. And perhaps because of that paramountcy and virtual unassailability - the Olympic Association has - for decades - defied every norm of democratic governance. President Ned Pitts was president for 42 years and did not face an open election in decades - in fact, no one can rightly recall when the last election was held!
But no one in the sports world complained - or at least not very loudly, so the ailing Pitts got to demit office on Saturday on his terms. 7news was at the Radisson for the historic event of the Olympic Association's first election in a while!:
Jules Vasquez reporting
After more than 50 years as executive and founding member of the Belize Olympic Association and 42 years as president, Ned Pitts - now in poor health - stepped down at a Special meeting of the National Olympic Committee.
His long time Vice President Hilly Martinez - who's been on the executive for 39 years - was elected to President's post on Saturday.
Jules Vaaquez
"How does it feel to assume the presidency having been involve with Olympism in Belize for 4 decades?"
Hilly Martinez - Elected To NOC Presidency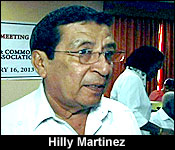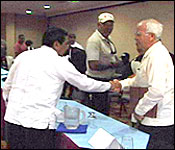 "Jules, I really do feel good about the whole situation. I just hope that I can live up to the expectations of all the national federations."
He is part of a new executive - the first elected one in over three decades. It has five new members, while the top three posts: President Martinez, Vice President Sonny Meighan and General Secretary Yolanda Fonseca have all been there for decades.
Jules Vasquez
"How would you respond to the criticism that with this election or selection in your case, you are un-opposed ( no fault of yours), that it is only a preservation of the status quo and that in fact instead of infusing the executive with new blood, it is just recycling (no disrespect) the old blood that has been circulating for some time?"
Hilly Martinez
"Of the 8 members only 3 have been here before. We have 5 brand new members; 5 young people who are on the board, so I will tend to disagree with you in that aspect because it's a brand new board that we have - 8 people on the board and 5 of them new from various association; we have table tennis, volleyball, karate, triathlon athletics. It's one 3 people that remained from the 8."
Julee Vasquez
"3 from the more senior post though?"
Hilly Martinez
"Everything is govern by democracy; the majority vote."
Jules Vasquez
"How should we view this from a historical perspective; it's been maybe 3 decades or 2 1/2 since we've had an election in the Olympic Association?"
Hilly Martinez
"I am not sure when was the last time But I know Ned had always called meetings with the general assembly, although they didn't elect, they all nominated him and the committee to continue, has always had all the national federations."
Jules Vasquez
"First open election in a while?"
Hilly Martinez
"Yes."
Jules Vasquez
"How does that make you feel?"
Hilly Martinez
"It makes me feel good and I look forward of having more of these."
The rare election was held on Saturday at the Radisson. And the electors were the 30 or so heads of Belize's sporting associations and federations.
Martinez - who was unopposed - now assumes the mantle at a time when transparency and accountability - not values espoused by the executive in the past - are the touchstones of the Olympic movement:
Jules Vasquez
"Will you all now move ahead in that spirit?"
Hilly Martinez
"That's a must, everything has to be transparent and like Mr. Peterkin told you from the International Olympic Solidarity Movement the presses also have a lot of responsible to keep us in check. We definitely wouldn't want to be kept in check by ourselves and by members of the federations."
Jules Vasquez
"Am I able to get a verbal commitment from you that you all will produce financials annually that you all will have elections regularly?"
Hilly Martinez
"Jules, not only verbal, I have to do this to the Pan American Games Association, The Commonwealth Games Federation and to the press. We will be meeting with the press whenever there is a need and yes the guidelines for the Olympic Movement have now changed, you have to have elections the year after Olympics; by June of the following year after the Olympic Games and audited financials must be submitted to the international federations in order for you to get any assistance."
And assistance is what these associations always ask the Olympic Committee for:
Hilly Martinez
"The priority first of all has to be to assist each national federation with development of their individual sports. Like I had mentioned, I don't know if you were in the room; I want to see if I can get some financing to build a facility. Belize is not the only country without a building because we don't have the finances, we don't have the cash. The Olympic Solidarity does not give you funds for that. But I am making a special plea to them and to the Pan American Games Association to see if they can assist in putting up a building. The 3rd of March we have a delegation going to the Central American Games and the cost of that game to the Olympic Committee is $200,000 plus Belize Dollars. We are limited also with our funding. Net has done an excellent job, when he is abroad he sits in front of you and he is not going to move until he gets the dollar out of you and this is why our association is financially stable. I cannot follow Ned's footsteps in that aspect but I will do everything that I can to get all the assistance."
Lawn Tennis Association president Edward Musa presented a motion - signed by those in attendance to name Pitts President Emeritus. We would wish to tell you what roles the five new executive members will play but failing its first test of accountability and transparency, the Association has not issued a promised release on the formal outcome of the election.