Posted By:

Marty
A Blow-By-Blow Account Of The Boxing -

02/26/13

01:42 PM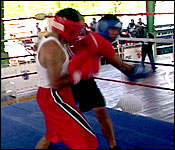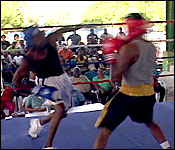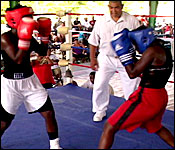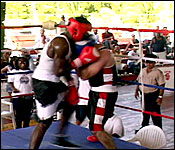 Last week, we told you about the Boxing card that was held on Sunday at the Bird's Isle. It's all part of the effort to restore the sweet science to the prominence that it once held.
The main event was the amateur phenom, Alex Neal, who was going up against Mohammad Harmouche, the more experienced boxer from San Pedro.
7News was there, and Daniel Ortiz has the blow-by-blow account:
Daniel Ortiz reporting
Yesterday, the Bird Isle was alive again with the flicker of a promise for the revival of boxing. Fans and supporters and all gathered for the full ticket of fighters coming from Lion's Den Ladyville, Lion's Den Cayo, and the Leopold Smart Gyms.
Several of those up-and-coming boxers who wouldn't participate, still showed up to support their team mates.
Early in the first bout, Eduard Garcia, using superior footwork, danced around Brandon Aguilar, to gain control of the match at its early stages. As the fight progressed he was just edging out Aguilar, leading in points.
But it soon became a test of fitness, and Aguilar clearly had the advantage, pacing himself and then at crucial moments, he started landing big hits.
By the judges' decision, Aguilar was declared the victor, a good showing in the first scheduled match. Next up, it was Simeon Lino going up against Rayford Smith, 2 boxers with very different strategies. As soon as the bell rang, Lino charged out of his corner and landed the first serious hits, but in this fight, victory would favor the patient Smith, who took Linos formidable punches, watch him tire himself out.
And when Lino was moving visibly slower, Smith started to land more his heavy hits, even pressing Lino on the ropes, where our camera was, worrying more about beating down on his opponent who was fatigued.
Again, by decision, Smith was named the winner by points. In the third match-up, Brenton Flowers went up against the man known in the ring as "J.R.". Both fighters were well-matched, but at the end of the fight, the judges decided that J.R. landed more hits, so the match went to him.
After that, Anderson Portio faced off with Oren Velasquez, and again, these 2 fighters displayed contrasting styles.
Velasquez came out swinging, looking for the big Knock-out, but Portillo would absorb all his attacks, and wait for opportune moments where he would land 1 or 2 punches, which added up in the end to earn him the win.
The day's only knock out came from the match-up between Kenyon Wright and the boxer known as "Chino".
His fighting style favored a practiced patience, where he only pressed his advantages cautiously. Wright's strategy, on the other hand, was based on a fast paced, hard-hitting style in which he attacked with a flurry and then quickly retreated.
And in one of those exchanges, he dropped "Chino" with a hard left hand to the head. By that time, he knew that he was surely going to be the victor.
After that bout, there was a female exhibition between Pauline Reneau and Shenique Michael - which was a draw, and then, it was on to the main event.
Amateur boxer, Alex Neal took to the ring in the final battle against the older, more experienced, and heavier Muhammad Harmouche.
Again there was a contrast in styles. Harmouche seemed to want to end it as fast as possible, and he attacked aggressively, forcing Neal to respond in kind to fight him off.
Harmouche slowly began to tire out, and Neal's conditioning helped him to keep the fight shifting in his favor. When the judges tabulated their points, they unanimously agreed that he was the victor. He told us what how he held it together, even when Harmouche was pressuring him:
Alex Neal - Winner, Now 5-1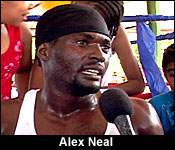 "I had to move. If I never had legs I couldn't move because sometimes he punched me and I felt those punches. My trainer told me that if you get a hot you should still fight like you didn't get any hit. In the ring you always feel pressure but then when I worked out I feel more pressure than this, so I have to know to re-coup back. It's like when I am sprinting, I sprint until I can't catch my breath - I don't stop run, I continue to run. I called it dead man run."
All things considered, Neal's trainer says that his performance was satisfactory, and he will work to help all of his students so that they can keep improving.
Clinton Tucker - Trainer, Lion's Den Ladyville

"We have a lot more work to do because we are headed for a professional level. This is just an amateur level - it's the beginning. I look at it as this is nothing - they are sparring. He had the edge from the get-go but he was pacing himself and taking his time. I told him to turn it up on the last round - don't hold it back, let him feel the lion in him. He got off on a lot of good punches. He probably could have taken him out but like I say he is a very cautious fighter, so he took his time and I am satisfied with his performance. I guess you guys will see something better next time - probably a knock out."
And his opponent says Neal is a promising boxer, who can get better with support from the boxing fans.
Mohammad Harmouch - Defeated by Alex Neal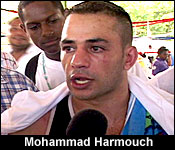 "I did 25 days for this fight and I didn't have enough time without a coach. Belizeans boxers are very good boxers, they need support from the government, good coach to take care of them and they will do a good job internationally. For me I accept my lost because the fight was perfect. The Belizean fighters are very good. They need more experience and with a good coach and support to continue to push them for international boxing. Alex Neal is good boxer."
Promoters say that they are trying to organize another event for late March.