Posted By:

Marty
Belize B-Ball Ready To Go! -

03/08/13

01:50 PM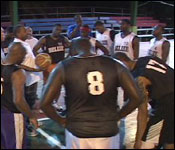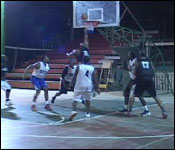 And while an air of uncertainty surrounds international competition for football, the coach for the National Basketball Selection says that he is confident that his team will perform well in the upcoming Central American Games.
Despite the fact that the team has been having problems with funding and a suitable practice facility, Matthew Smiling says that they will do well in the tournament, which starts this Sunday.
He discussed the team's readiness with 7News today:
Matthew Smiling - Head Coach, Belize Basketball National Team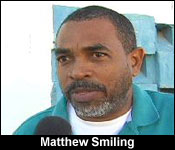 "We have the players like Darwin Carter, Leon Jacobs, Jean Myvett, Inglebert Cherrinton,, Keith Acosta, Ty Bradley, Linsberg Graham, Steven Williams and a bunch of others."
Daniel Ortiz
"So, what are the strengths of the team that is going to be representation?"
Matthew Smiling
"I think we are very fast. We're not big because Inglebert is the only legit big man we have along with Farron Lauriano, but we're a very fast team and that's the way we want to play."
Daniel Ortiz
"So, we expect a very fast pace; as you grab a rebound, you make a move."
Matthew Smiling
"Yes we run and we'll be pressuring a lot."
Daniel Ortiz
"Realistically, what are the expectations for the tournament? How well do you think we can do? Are we expecting to medal?"
Matthew Smiling
"Yes definitely, I think we can win. We are getting some sponsors but it's not as we would want it. We have a budget that we have printed out, but we're not even half way to that budget as yet. So, we're still appealing for sponsors to come in. I know we have turned over the list to you all so you can read out the sponsors we have so far, but still we are looking for more."
Daniel Ortiz
"At this current moment, do we have enough funding to get everyone over to Costa Rica?"
Matthew Smiling
"Yes; we do have funding to get to Costa Rica but there's always bills to be paid."
And while they are in need of more funding, Smiling was very thankful for those sponsors who have already committed to the cause including, Belize Bank, The Atlantic Bank Group of Companies, Heritage Bank, Fort Point Security, the law firm of Barrow and Company, the members of the Barrow family, Attorney Andrew Marshalleck, and Fitzgerald "Palas" Joseph.