Posted By:

Marty
National female softball team wins bronze -

03/08/13

02:10 PM
While Ruta Maya is just getting off, the Belize National Womenís Softball Team returns to the jewel this Friday. The team isnít coming home empty-handed; itís bringing a bronze medal from the tenth Central American Games in Costa Rica. In the second semi-final game Belize lost to Guatemala two to nil. The losing pitcher was Francine Hoare. And in the third and final game, El Salvador defeated Belize by the score of fourteen to four. The losing pitcher was Kenreen Gillett who had relief from Lisa Jones. To get to the bronze, Belize defeated Costa Rica and Nicaragua earlier in the competition. [url=http://edition.channel5belize.com/archives/55700]Channel 5[/url]
---
Bronze For Belizean Softballers
The tenth Central American Games started a week ago and sotball was the first discipline to have a go at it. The Belize Female National Softball team competed against El Salvador, Guatemala, Nicaragua, Panama and host country Costa Rica. Belize started out well with a 4-1 record which meant a chance to play in the medal round.
But Guatemala defeated our girls 2-0 to advance to the gold medal game. And then, El Salvador defeated Belize by the score of 14-4. So, the team returned home today with bronze medals. 7news was at the airport to greet them:
Gregory Moguel - Coach, Female National Softball Team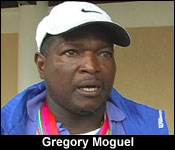 "We went up against El Salvador, Guatemala, Panama and Costa Rica. The tournament was fierce, and our competition was up against Guatemala and Salvador. The Panamanian team is a very great and hard-hitting, team but they didn't have the level of pitching that we had. We played pretty well in our regular tournament, and we placed second which we played Guatemala because 1 played too. When we played that day, obviously we had great opportunities, bases loaded at least 2 times for us to score runs, and we did not capitalize. I think the team played well. They did what they had to do, but they just didn't come through at the point where we should have come through. We were there for basically a week; the contingent for us was 16 players, and I have 2 assistant coaches along with a pitching coach, and the head of the delegation. So, it was basically about 21 people from the softball delegation."
First place went to Guatemala and second place went to El Salvador. The team now prepares for the qualifying tournament for the Central American Caribbean games that will be taking place in San Juan Puerto Rico sometime in August.
Also getting much less publicity and far less success was the sport of fencing. According to reports three young fencers from Belize went, but right off the bat two were disqualified for not having proper gear. The other did not advance.