Posted By:

Marty
Belize Bested Guatemala In Amateur Boxing -

06/11/13

11:07 AM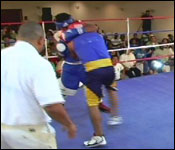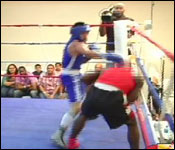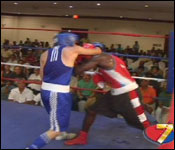 On Friday night, Channel 7 brought you another card of live amateur boxing from the Biltmore Best Western in Belize City. There were a total of seven fights in which Guatemalan boxers, many of them champions faced Belizean Boxers. In the six fights contested by Belizean Boxers, Belize won four and lost two. It wasn't a bad showing for the homeboys, and after the event we spoke to the winners.

Vicente Sansores - 17 year old Boxer (Translated by Jules Vasquez)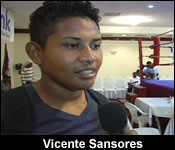 "From my point of view it was a very good fight, he was a respectable opponent. I believe he beat, that is how the judges saw it and I respect their decision."
James Aderley
Do you feel that you started to fight a little too late?
Vicente Sansores
"Yes, they were telling me about my delayed reactions, although in the first round I was analyzing the combat so that I could fight better in the second round."
James Aderley
"What would you do differently to win this fight?"
Vicente Sansores
"Well to win, you just have to throw your blows repeatedly and try to make more points and fight very strong."
Devi Moya - Boxer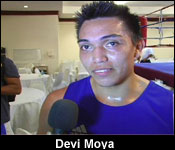 "My strategy was speed cause really he was way stronger than me, because as you can see I am lighter than him and obviously I can move faster, but he had more speed as well, and if one of his blows had hit me, it would have hurt, and sometimes some glancing blows caught me and I felt them but I just continued, backed up and came back with quick combinations and I think that's what got me the victory."
James Aderley
"When did you know you were doing damage to him?"
Devi Moya
"At the moment when he was ducking down. And when started to duck down , that's when I saw that he was getting tired and feeling the blows."
James Aderley
"What do you have to say to the Belizean fans who say you are a bad man?"
Devi Moya
"On the contrary, we train a lot and we have been training hard for this event. And in the other occasion we had a fight in Belize just like this one it worked out well and the level of boxing in Belize is rising and I encourage them to keep supporting the sport."
James Aderley
"In the opening round you came out very impressive and you got her attention very quickly"
Pauline Reneau - First Belizean female in an international bout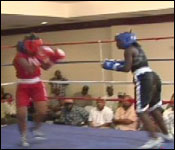 "Sure did"
James Aderley
"I think in the last round you were a bit short of breath, is that so?"
Pauline Reneau
"Well actually I was just trying to hold down the pace a little because I guess I am soft hearted because I saw how the Guatemalan was getting kind of tired and I didn't really want to beat on her because I had seen that I had to advantage"
James Aderley
"You are the first Belizean woman to fight an international fight and you are the first Belizean woman to win an international fight so on two counts you are a 'big time' today, how do you feel?"
Pauline Reneau
"Well excited, like I told the media before I was here to win, I just proved it to everybody"
James Aderley
"How far do you intend to go in this sport Pauline?"
Pauline Reneau
"Well my aim is pro, this boxing, I am planning to make it my career"
James Aderley
"Is this your style of fight, that as you come out you pursue?"
Colin Lamb - boxer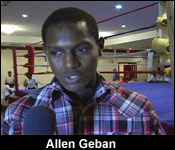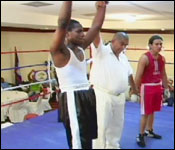 "Well actually I was just trying to 'feel out' the man and to see what was happening then came in"
James Aderley
"When you knew had him? Because you were pretty impressive"
Colin Lamb
"Well I saw him stutter and I rushed in and did my best, although I need to try better"
James Aderley
"At any time, did you hurt you?"
Colin Lamb
"No, he didn't hurt me at all, because when I fight with Sherman and Max, that is much more punches they hit me with so that I didn't feel at all"
James Aderley
"What were your feelings when the referee said 'box' and the bell rang?"
Allen Geban - Boxer, First fight
"Well the first thing that came to my mind was to stay focused and keep a good mind on the opponent to see what he would do, just stay and high alert to see what he would do, just keep focused"
James Aderley
"You were obviously stronger than your opponent, but in some instances you looked a bit wild with your punches"
Allen Geban
"Reason being, because he was pushing my head down and I couldn't get nothing up and the referee didn't stop him from doing that so he continued and so that's what happened"
James Aderley
"So now that you stepped into the water and you got your feet wet, what are you going to do next"
Allen Geban
"I will just keep on pushing, never give up"
And while those were the winners, one loser was bitter about his TKO. Max "Pain" Williams was 15 and 0 in his amateur career – that is until he stepped into the ring against Guatemalan Jose-ito Aguerro. He left that one with a third round TKO – and told us today, it was most unfair:…
Max 'Pain' Williams - Boxer, TKO, First Loss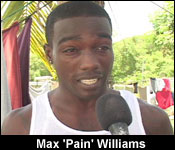 "The referee said he saw something I didn't see but I didn't feel anyway and I was trying to make him punch himself and get tired because I had won the first two rounds so I said, well let me feel his power because I am not feeling anything from him'. I was chasing him around and around the ring, he should have stopped the fight on the second round, I was killing this man's body, like destroying his body because all my shots landed 'clean'. He wasn't throwing anything at me, he was swinging but missing. I didn't want to go in the fight and go too fast and get tired so I was pacing myself. He said I was fighting a professional fight at an amateur level but if that was so he should have stopped it from then, do you understand, why wait until I am relaxing on the rope to stop the fight. I wasn't feeling any pain when he was throwing all the shots, all his shots were missing, I was blocking all the shots. My shots were landing 'clean' but when I went to him and asked him why he stopped the fight, he looked at me told me not to tell him anything so I didn't want to argue with the referee."
Promoter James Adderley says he's already looking at another promotion – and we'll keep you posted….