Posted By:

Marty
Ida Weakens -

11/06/09

02:44 PM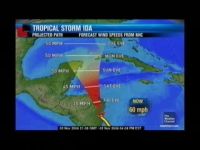 Ida made landfall as a Hurricane near Bluefields, Nicaragua this morning – but tonight she has been downgraded to a Tropical Storm. Ida is expected to continue to weaken and is currently moving very slowly over Nicaragua – which means heavy rainfall for the mudslide prone areas of Nicaragua and Honduras. And while those countries are sure to experience some kind of extreme weather event, Belize has its own concerns: specifically will Ida make it out into the Gulf of Honduras and when she does, will she pose a threat to Belize? And if so, what do you need to be prepared for and when? Jacqueline Godwin went looking for answers today.
Jacqueline Godwin Reporting
Hurricanes are sometimes very difficult to predict. In the case of Hurricane Ida, this storm is expected to re-emerge in the north-western Caribbean. If it does, it will be either be a depression or something weaker. Whatever the case, rain is expected to affect the south and the coast of Belize. Because Belize City is situated along the coastline, today the City Emergency Management Organization met to prepare for whatever may blow our way.
And according to Meteorologist Derrick Rudon while it remains uncertain if the system which was downgraded to Tropical Storm Ida earlier today will survive her travel across north eastern Nicaragua and Honduras, if it does, it will be a rainmaker.
Derrick Rudon, Meteorologist
"Here in Belize we can expect about 2 to 4 inches of rainfall per day."
And with that volume of rainfall in twenty four hours, flooding is expected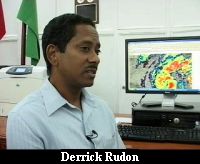 so families living in low lying areas in the south and along the coast especially in vulnerable areas in Belize City are asked to monitor the system and remain on the alert.
Jacqueline Godwin,
"Presently we notice that the system is over land. When do you expect to re-emerge in the north western Caribbean?"
Derrick Rudon,
"The system will spend about 2 days or so over land and re-emerge in the northwestern Caribbean around Saturday morning."
Jacqueline Godwin,
"What does that mean for us?"
Derrick Rudon,
"That means that our weather will continue cloudy and showery over the next couple days. Over the next two to three days we can expect cloudy and showery weather. Especially, most of the rainfall will be over the sea, the coast, and the south."
Jacqueline Godwin,
"Well we know that the ground is already saturated because it has been raining for the past few days. So when should we expect to see conditions worsen?"
Derrick Rudon,
"We can expect over the next 24 hours to see an increase in showers."
And while upper level conditions are not favourable for the storm to intensify, if it does enter the northwestern Caribbean Sea where the water temperature is eighty five degrees there is that possibility Ida can strengthen. Its track also remains uncertain and that is why the City Emergency Management Organization has been making the necessary steps in the case of an event.
Philip Willoughby, CEMO Rep.
"All of our committees and agencies and support committees will be in a state of alert going into the weekend. Everybody will be in a state of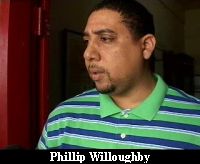 alert and be ready to activate if needs be based on the information and the guidance that would come from the Ministry."
If the storm does make it out into the north western Caribbean only one of the modules predict a projected track over northern Belize. Most modules show a north westerly track that will greatly minimize the effects of the storm on the country. But because of its projected close proximity to the country the National Meteorological Centre has been keeping a close watch on its progress.
Derrick Rudon,
"If the system re-emerges and is a fairly strong system then the steering currents will continue the way it is shown there, it will continue to move it to the north northwest. If it is a weaker system then the low level flow will carry it more than the mid to upper level floor and as a weaker system then it would move more to the west which isn't good for us…more water for us."
Equally concerning is that for most of the day Tropical Storm Ida remained stationary which makes it even more difficult to forecast.
Derrick Rudon,
"Yes there are concerns. It is close to us, it is in our warning area but because of the motions there are no warnings at this time but if it re-emerges, they might be warnings when it re-emerges. We might have to put up the flags and so on. It depends on how strong it is and what direction it decides to go.
Stay in tune to the radio or the television and keep abreast as to what's happening, any developments with the storm. Keep up to date on the situation."
Philip Willoughby,
"Anything can happen, any number can play but I want to assure the residents of the city and the surrounding areas on behalf of us that we are paying attention to the system, we are monitoring everything and we are listening and will take guidance from the Ministry as with regards to how we proceed forward."
And while tropical storm Ida formed in our area late in the hurricane season it is not the first. On November twentieth, 1971 tropical storm Laura formed and did affect the country. Reporting for 7News, Jacqueline Godwin.
According to the National Meteorological Service in our history of hurricanes which dates back to 1889, there have only been three that have formed in the month of November and affected the country. The first was an unnamed tropical storm on November third, 1898, a category two hurricane on November ninth, 1942 and on November twentieth, 1971, Tropical Storm Laura. Let's hope that Tropical Storm Ida does not become number four.
Channel 7