Posted By:

Marty
Floodwaters All Across the Land -

10/29/13

11:09 AM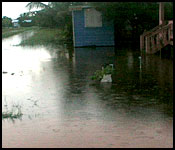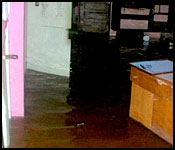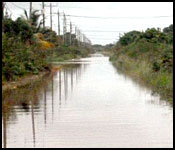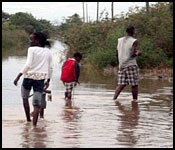 Presently, flooding is being experienced in most parts of the country. In Santa Elena, the temporary bridge is completely submerged - and this morning the area was best used by recreational fishermen, looking for some hungry Tilapia. Those in the area tell us the water had risen since yesterday.
Further west in the Mountain Pine Ridge, The northern side of the Privassion bridge approach washed away, and only small vehicles can access the bridge with extreme caution. The Little Vaqueros bridge entrance is partly washed away. The Guacamallo Bridge is under water. The human impact has been greatest in greater Belmopan, specifically the areas of Maya Mopan, San Martin and Salvapan. Emergency Response teams had to rescue 6 people in Valley of Peace last night and another six in Frank's Eddy this morning. In Roaring Creek, the water is still a few feet below the deck while Camalote, Teakettle, Bullet Tree, and Santa Familia are all under alert for flooding. Shelters have been opened at the More Tomorrow and Belmopan. In Belmopan, those Shelterees in the UB Gymnasium had to be relocated due to a bomb threat at the University of Belize.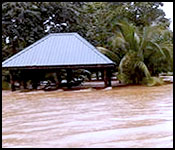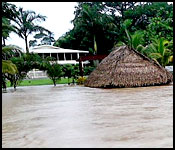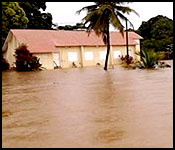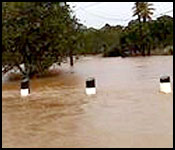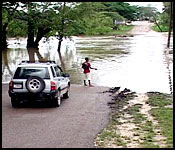 NEMO warns that those same flood waters from the west are now rolling East to the sea, swelling the Belize River. Villagers of Gracie Rock, Crooked Tree, Bomba, Grace Bank, Hattieville and other communities flood prone communities are asked to be on high alert. Moving to the Stann Creek District, yesterday in Sittee River Village - the rover by the same name had swollen significantly much as it had in June.
In Hopkins, the Freshwater Creek had also run over its banks and caused flooding in that village. NEMO reports that there was flooding in Mullins River, San Roman, Valley Community, Hope Creek, Sarawee, Dangriga, Santa Rosa, and Cow Pen.
In Toledo, Flood Watch remains in effect for: Santa Rosa, San Benito Poite, Jordan, Aguacate, Crique Sarco, Bladden, and Corazon. As we said at the top of the news, that drowning in Succotz has been the only loss of life directly attributed to the floods, thus far.