Posted By:

Marty
Botes, A Slight Return -

12/31/10

03:41 PM
We call it Navidad and it is that time of year which is synonymous with merrymaking…for most families that means stretching resources, and making that proverbial dollar out of fifteen cents.
For many - particularly in northern Belize - stretching resources often means smuggling low cost goods from Mexico into Belize - and we don't mean through the Santa Elena border!
Those goods are usually brought through Botes, the most popular illegal crossing between Belize and Mexico. It's popular because the San Antonio/Santa Cruz road leads right up to the border point - meaning those who are willing to run the gauntlet against the customs department only have to take a dory ride to the other side to get their low cost Mexican products.
In February, a 7news team took that ride, and tonight as the year ends and we look back at a few of our favorite stories, this one especially caught our eye:..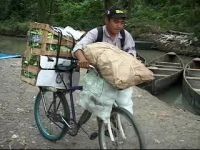 Have you ever heard of a place called Botes? If you're watching this newscast in the Orange Walk or Corozal districts tonight, we're sure you have. Botes is in Mexico - right along the Belize border, and it's one of the most popular places to buy contraband. Or at least it used to be. For the past 6 months or so, the Customs Department in the Orange Walk Direct has enforced a zero tolerance policy - those caught smuggling - even a box of Mexican matches will have it confiscated. It is a tough, no nonsense policy and we took to the Yo Creek/San Antonio road on Saturday to see what the contraband and the customs experience is about.
Jules Vasquez Reporting,
Santa Cruz Village, there's not much to see here. In fact, a government school and a hurricane shelter are the only things that tell you you've arrived. It's at the end of line - the south western edge of the Orange Walk District on the periphery of the Albion islands - sitting at the border with Mexico adjacent to the community on the other side, known as San Francisco Botes.
But for the folks we met there it is the beginning of a journey back home -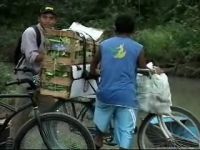 saddled down with plastic bags and knapsacks full of groceries. The groceries they carry are from Mexico - contrabanded into Belize.
And while they go on foot - those moving greater volumes use bikes. This woman is strapping up this bike with a boxful of cabbage and two sacks of avocados. This bicycle has two boxes of cabbage and two sacks of avocado as well. And if that's not enough - the smuggler then puts on a sack of carrots. And this bicycle is being saddled with a box of lettuce.
After filling that up - she's puts three bags of groceries on her handle and cauliflower on the back and she's off - followed by the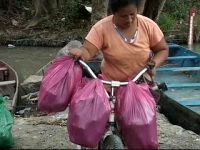 lettuce carrier - and for good measure, he gives us a good cursing out.
These are professionals - wholesalers - they will sell their product to storeowners. And they move between Santa Cruz and Botes Mexico on these - a village version of water taxis - kayucos as they are called. They are flat bottomed and wide - built to move cargo and remain stable in shallow water. Fittingly the water will take us to Botes - Spanish for boats.
We go down a narrow channel - about 300 feet as the boatman navigates the area with a familiar touch. On the banks of the channel - the remnants of the contraband trade are visible; all the packaging discarded for onward smuggling. From the narrow channel we emerge into the mighty Rio Hondo. This is not an artificial border - the run of this river defines the border between Mexico and Belize
We have to start taping immediately. Our boatman advises us that the Mexican
military maintains a strong and strict presence over there - and they won't allow us to tape freely. He's right and after some negotiation, they allow us to tape only this riverside area.
Still we sneak into the town - into this Mini Supermarket. It is a small Mexican grocery store selling the same basic items you would find in any comparable store in Chetumal, except it's busy as the supply trucks keep on pulling up. And there is one other major exception, all the shoppers we found there were Belizeans paying in Belizean currency.
The ones we encountered were from the villages of Trinidad and August Pine Ridge - which are nearer to Botes than they are to Orange Walk. They paid about $2 for the bus ride to Santa Cruz and another $2 for the boat ride. They bought beans, minsa, flour and some soft drinks and chips - they didn't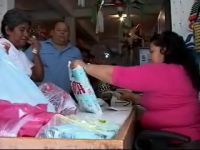 want to talk on camera but told us why they shop in Botes.
Belizean Shopper #1,
"I am a poor woman and a single mother. I come here to buy my small groceries because in Belize it is very expensive - with 50 dollars I can't buy my provisions and when the Customs finds us they take away everything.
What we will do if they tell us to not come and buy over here because it's contraband...? And they'll take it...but sometimes there's a necessity because with fifty dollars only soap and small things you can buy with 50 dollars in Orange Walk."
Belizean Shopper #2,
"We buy a lil thing just to come on a weekend. We don't buy it to sell, just to have a party from home."
Jules Vasquez,
"But if you meet Customs on the way…"
Belizean Shopper #2,
…He will tek it."
Jules Vasquez,
"Even those small things?"
Belizean Shopper #2,
"Yes everything. If you bring a two chips they will throw it in your face."
Jules Vasquez,
"How often you come here?"
Belizean Shopper #2,
"Me not every time just some times if my family has a birthday then I would come and buy some things to have a small party."
And though I had no party - I decided to test the system - bought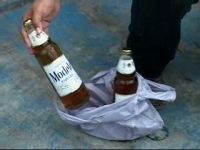 two soft drinks for which I paid two dollars Belize. For fear of being robbed, she didn't want to show me inside the cash register but it contained only Belize dollars.
I had the same experience when I bought two Modelo beers and two Pepsis at another store. These sections were taped off my cell phone camera because the military had by then stopped us from taping inside the village. But again, her cash register contained only Belize dollars.
Nonetheless as the footage shows I paid and got change back in Belize dollars - my idea was to see if I could smuggle these beers through the checkpoints. And while we bought beer, many shoppers also bought these meats - and the shopkeepers just keep stocking up in this case with bags of chips. All in all though it is a very unremarkable shopping experience but an affordable and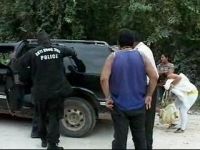 convenient one for these villagers of the western reaches of Orange Walk - who crowd into trucks to go into the interior.
And so the shoppers keep coming to this Mexican village by the riverside. The river becomes crowded like a roadway - and it seems at times almost like a poor man's Venice - the squat Cayucos our cross border gondolas, all the while snacking on Mexican junk food.
Our project's contraband cargo would be these beers - the forbidden fruit of the trade. We headed back over to the Belize side - there was word that Customs was about so these folks parked on the water's edge awaiting the all clear. But not us we wanted to get caught with our contraband cargo.
Back into the taxi area where the other shoppers were rushing home with their treasures. When we got there - the call of Customs was resounding through the village - that's how it is - an early warning system that is hardwired into the native reflex in this frontier community. But there was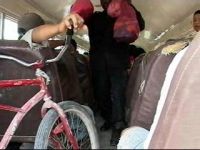 no Customs - the coast was clear - so to speak.
Our first encounter with the Customs was half mile out - where we met a Customs checkpoint lying in wait.
Customs Officer,
"Anything to declare sir? Go ahead."
But there would be no safe trip for the next set of travellers. And they turned out to be the same folks we had met at the supermarket - the same ones who gave us the interview. Now it was Customs asking the questions. The Customs search confiscated everything they had just bought - every bag of chips and beans, every soft drink - leaving them with nothing but the bitter memory of this encounter. Their groceries were put here in the back of the customs truck - and what they told me earlier proved prophetic.
Belizean Shopper #1,
"It's unjust what they are doing to we the poor - they should take away bigger loads such as big colas and beers."
That would be the same complaint from the passengers on the Alamilla Bus which came up the hill a few minutes later. The Customs officer boarded and searched under every seat in every corner for these colourful bags from Botes. The items seems small - consumption amounts - but the Customs officers tell us that their experience shows that in many cases these small bags are the property of big wholesale smugglers who break down their purchases into small bags to make it seem like the property of individual shoppers.
That may be the case, but there's no way to know really. All we know is that the bus leaves and the items are confiscated - leaving a bitter taste in the mouths of area residents.
Belizean Shopper #1,
"In my family we are 8 persons and at times we do a little shopping here and I came and they took away one sack of flour and 5 packs of minsa and I say that's not fair because they take it to their sweethearts and they don't realize the family we have to maintain."
They're bitter and angry at the zero tolerance policy of Customs and truth fully it saddens me to see them lose their stuff. These folks are by no means wealthy - just villagers looking for cheap groceries. But then there's the other side, they're straight up smuggling and they know it - and they also know the risks and they also know that it's against the law.
And tomorrow - we'll show you the other side of this story - we'll follow their confiscated groceries all the way to the Customs warehouse.
And tomorrow, we'll also tell you how far our team got with those two Modelo beers they were smuggling. And, a note on the Mexican military presence in Botes. They told us they were there to control the smuggling of sugar into Mexico from Belize.
Back in February when we originally did the story, we followed those confiscated items to the Customs department warehouse in Orange Walk Town where all the confiscated items are kept. In the case of the rice, flour and vegetables, those were given out to schools, while the beer and soft drinks were destroyed.
That effort of community involvement by the Customs department in Orange Walk has continued and even evolved. Right now, the customs department is getting ready to sell 54 bikes confiscated from contraband carriers. According to Jason Menzies the head of the formation in that district, the bikes will be sold for 20 dollars each and the proceeds will be used to buy football uniforms for the Santa Cruz football team….


Channel 7