Posted By:

Marty
Providing Healthcare For The Diaspora -

01/12/11

02:40 PM
The International Health Professions Network is a non-profit organization committed to providing medical health care to the African Diaspora. Having offered their services and expertise some African countries and the Caribbean, the organization is in Belize this week. The team is here for a five day fact finding mission to identify what are the public health needs of Belizeans and how they can satisfy those needs through their organization. Today, the team met with different government officials and first lady Kim Simplis Barrow.
President of International Health Professions Network told us more about the meetings and when you'll be able to access healthcare:
Susan Stukes, President - I.H.P.N.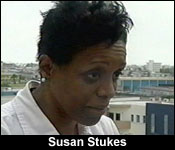 "Well the organization likes to identify areas that country needs assistance with in the healthcare arena. So that was the focus of the meeting to find out what the programs are , their priorities and see how we can play a role in helping them."
Nana Afaa Ofosu-Benefo, Vice President - I.H.P.N.
"We are here for all of 8 days, the first 3-4 days in Belize City. The second part starting tomorrow actually, we'll all be in Ambergris Caye conducting a holistic health and wellness conference, very small but addressing al areas of yoga and massage and meditation and some Mayan holistic health practices and things of that sort."
Andrea Polanco
"So the discussions that you had since you been in Belize, what will that lend itself to when returning here?"
Susan Stukes, President - I.H.P.N.
"A combination of things, we will be working to provide clinical services, we've discuss improving the dental care access at the hospital, we've even talk about areas of special needs for children and even the needs of women."
Nana Afaa Ofosu-Benefo, Vice President - I.H.P.N.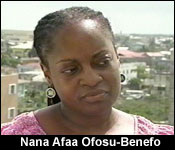 "We would like to have a rotating program here in Belize, so it won't be once or twice but having sort of a core set of volunteers who will work with specific programs that we've establish here in Belize and will come throughout the year, maybe every 3 months, maybe every 6 months but this is starting in the future in the next year or so."
The organization which has been serving the African Diaspora since 1990 provides services that range from Emergency Medicine to Nutrition to Community Health Fairs. The team is expected to return to Belize sometime next year.