Posted By:

Marty
Campaign To Curb Cervical Cancer -

02/02/11

03:37 PM
Today the Belize Cancer Society in collaboration with Kim Simplis Barrow in her role as the Special Envoy for Women and Children launched its Pap Smear Campaign.
It's held under the theme: "Take a stand against cervical cancer: prevention works- Get your PAP test today." Organizers say it is a test that Belizean Women should make a priority, because although cervical cancer is preventable and curable, it still remains at the top of the list of cancers affecting Belizeans….
Dr. Tracey Nicholas- OBGYN KHMH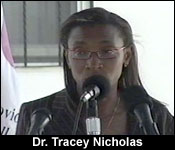 "We have 48 cases per one hundred thousand women each year and we have 16 deaths per one hundred thousand each year. In a population that we have say 300,000 people that's a lot of deaths that we are having per se, that's almost 50 women that we lose per year and that's too much. One is too much."
Kim Simplis Barrow: Special Envoy for Women & Children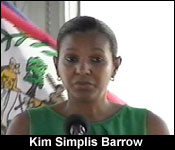 "The World Health Organization estimates that globally cervical is responsible for some 88 thousand deaths yearly and that over 500,000 cases of cervical cancer are reported each year. cervical cancer is the second most common cancer afflicting women worldwide. Here in Belize are you aware that cervical cancer is the most common cancer in women?"
While cervical cancer is the most common cancer among women in Belize, it is a curable and preventable disease if detected early. Public education coupled with increased accessibility of health services are critical to prevent its spread
Kim Simplis Barrow: Special Envoy for Women & Children
"Regular screening of women and education to women on safe sex could help early identification and diagnosis of the disease and so I am encouraging all women to let today be the day that add pop smears to their to do list. Not at the bottom but at a place of importance, at the top."
Dr. Peter Allen: CEO- Ministry of Health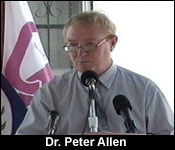 "We must continue to improve our healthcare delivery systems to make them much friendlier to those who use them. We should ensure that community perspectives and needs are incorporated into program design and of course we must heightened the awareness of cervical cancer and the effective prevention strategies that exists."
And one such strategy is a PAP test, which as Laura Longsworth- President of the Belize Cancer Society explained is a rather quick and simple process:
Laura Longsworth- President Belize Cancer Society
"This is a speculum that is used, inserted into the vagina and its very gentle lubricated and everything and it's just goes in very quickly because we have skilled health professionals. We open it and this is the kit that they use. This kit through with using that speculum, they open the kit and they go in using spatula to take out the cells off the cervix and using the brush to just role the sample on the slide. Those things are discarded, all of that discarded and it is seal.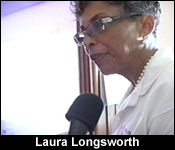 It's spayed so nothing can move and its seal with the patients' name and this goes to the lab along with your form. Then the lab will ten return it to us and then we will call in patient and give them their results and the necessary referral."
Dr. Tracey Nicholas- OBGYN KHMH
"The colposcopy is something that's going to help to alleviate what is happening. When you done a pap smear if it is unfortunately abnormal for you then we need to continue the follow up care of that and that is what you are going to get done at Karl Heusner Hospital. It's a microscopic evaluation of the cervix. We do biopsies, we can actually see how extensive the abnormality is and then we can actually treat if it's a precursor of cervical cancer will get you at that stage. This is what the Pap smear is all about. We want to get you before you actually become survival cancer."
This week's campaign has set a target of 500 women, and after that the findings will be published. The data will inform future awareness and testing drives:
Laura Longsworth- President Belize Cancer Society
"We will put together a report stating how many people we tested and certainly what the results are. The results are very important because this is a report that will go into the national system and certainly will be used to increase the attention to the issue of cervical cancer prevention and control. Within the ministry they have a cervical cancer survey system and so this report will feed into that system and help them to determine whether they need to increase their attention or what are the areas of problem."
The Pap Smear Campaign will run until Friday February 4th and will also involve two outreach clinics at The Collet Research Center and Samuel Haynes Institute. If you'd like more information on the Pap Smear Campaign you can call 223-0922.