Posted By:

Marty
BTL Soft-Launches 4G -

12/15/12

02:08 PM
>
And while DIgicell is celebrating 10 years, BTL is upgrading its cellular network to 4G capability. Today, the company held what they called a "soft launch" of the network.
7News stopped by and we asked the public relations manager what they mean by "soft launch".
Here's how she explained it, along with what customers can expect:
Anjali Vasquez - Public Relations Manager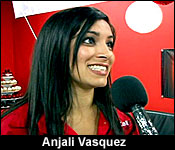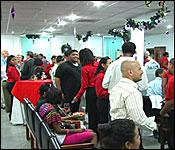 "It basically means that today we put on some of friendly user testers, some of our business people - selected few people who will help us sort of break the ice and initiate the 4G service. These people are being put on and if you take a look there are quite a few here. They are being put on as we speak, so that we work out the kinks before we commercially launch to the public next week which we will announce that date. Besides just launching 4G service the first of its kind in Belize - there is a huge concert tonight December 14 and we have a whole lot os promotions coming up in the next week. In the newspapers we've been advertising phones at rock bottom prices because they really are. I mean who gets an S3 for the incredible prices - all you have to do is sign up for 4G services, a 12 months plan - you sign the contract and then you can also pay for the phone itself, the device over 6 months. You are not only getting rock bottom prices, the incredible speeds on our handset but you are also getting to divide up the cost of that handset over 6 months. Its unbeatable, we've got people knocking down our doors already wanting our service, wanting the phone and we are just super excited - we've been overwhelm with the response to the service."
According to Vasquez, the commercial launch will take place later next week, on a date to be announced.