Posted By:

Marty
BOS Crack Down On Lab Testing -

11/05/13

10:58 AM
Have you ever gotten a blood or urine test done at a local lab and the result was completely puzzling - and, in the end, turned out to be completely wrong? It happens more than you'd think and it's the dirty little secret of medical laboratories that there are no standards or independent testing done in this critical field. The bureau of standards is trying to change that. They are working with the CARICOM Regional Organization for Standards and Quality on a project called Increasing Awareness of Accreditation Among Medical and Testing Laboratories in Belize." We found out more at the half day workshop today:...
Dr. Claire Durant, Project Coordinator - CROSQ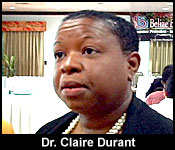 "The Caribbean Regional Organization for Standards and Quality will be assisting medical laboratories and public health laboratories in improving the standard of work to bring them up to the international standard. We will assist the persons who are actually working in the laboratory in addressing issues that are happening in the lab, the work, the documents, the calibration of instruments, the preparation of samples, how they do the reporting so that it can all be standardize and they can improve their efficiency in the laboratory and ultimately help the public in producing tests that are accurate and reliable 100% of the time."
"It's extremely important in order for the confidence of the public to be certain that whatever results are being provided to them are accurate and to have confidence that the laboratory and personnel understands and all of the policy makers and regulators around understand that all of the aspects; from the time a sample is taken through its testing in the laboratory straight through until you have a result need to be done in an organize and standardize manner."
Jose Trejo, Director - Belize Bureau of Standards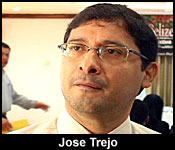 "Basically we will work with an accredited laboratory for example, in the case of Jamaica; they have an accredited body that we will work with. They will help us to build accreditation efforts in the country and the bureau is basically coordinating that effort - taking the full responsibility to coordinate the efforts for accreditation in the country."