will be sun from all directions, followed by night with some stars, mostly above us. The following days will be just like that. ...
Weather report courtesy Ebbe Weile


For current conditions and a forecast for San Pedro and Belize as well as a Tropical Weather Forecast see the Daily Weather Forecast in our forums.




For information on past hurricanes, click here.




Every morning Elbert takes an early morning photo (usually with at least one bird) and writes up his weather outlook. You can find that and other discusion of the day's weather under Today's Weather on the message board.
Click here for a wind & weather forecast for Ambergris Caye and San Pedro. Excellent information for sailors.
Current Conditions and weather history for Ambergris Caye / San Pedro
Caye Caulker Weather
NEMO
Windfinder forecast for Ambergris Caye & San Pedro
The TWO seasons in Belize can be described either as the Wet or Dry season, the Hurricane or non-Hurricane Season, the tourist season or slow season, or Air Conditioning season or Non-AC season... Joanne Zore Buettner
More Ambergris Caye weather information: https://sanpedrowx.com/


250 Km Radar Picture
(Time Label on picture is GMT. Local time is GMT-6 Hours)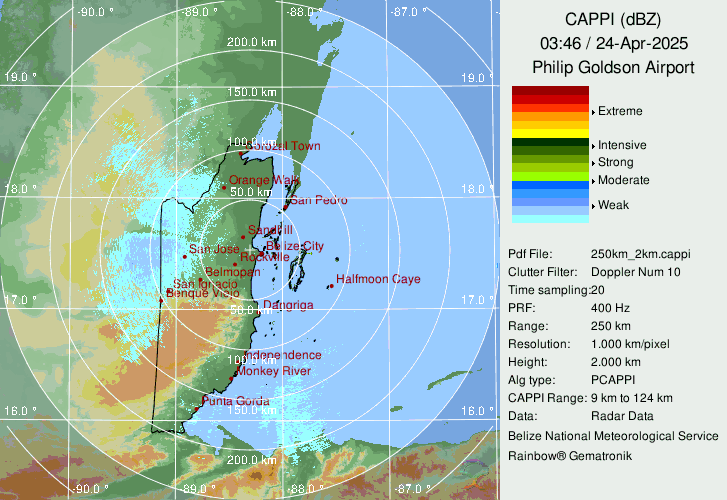 Winds:
---
Here is a weather station on the island. Good historical data beginning 4/28/2008

---
---
Belizean Government Weather Forecast
http://nms.gov.bz